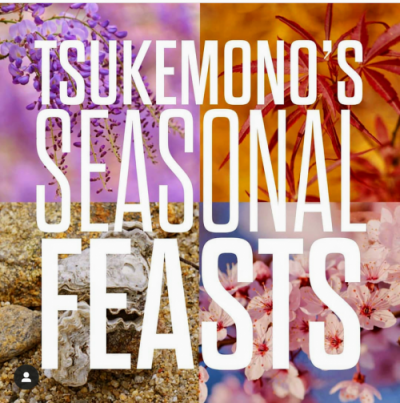 Tsukemono have been delighting Bristol diners with their Japanese inspired street food at market stalls and pop ups for a couple of years. Founders Iris and Adam have been looking for an opportunity to share even more of their love of Japanese cuisine and culture with a series of more elaborate and intimate events. We are delighted to be hosting them at the bakery on the following dates;
Summer: Sunday 2nd June 2019 – FULLY BOOKED
Autumn: Sunday 8th September 2019
Winter: Sunday 8th December 2019
Spring: Sunday 29th March 2020
The supper club's summer edition will feature a multicourse menu designed to satisfy all hot weather cravings, catering for ethical omnivores and vegans alike.
Highlights include the ultimate summer treat Kakigori, a Japanese shaved ice dessert flavoured with an exciting range of syrups and Kushikatsu, a deep-fried delight on a skewer and staple of Osaka's street-food scene. The menu also boasts mackerel sashimi along with a vegan sashimi consisting of seaweed cured heritage carrot.
But it doesn't stop with the food. Tsukemono's Adam Hartshorne is a trained printmaker and has created a series of limited edition prints that diners will be able to take away as a keepsake.
Adam says "I've always been fascinated by the rich history of Japanese printmaking. The prints, like the food, are inspired by the seasons. Both are really transient experiences and we hope we can provide people with something memorable."
Diners that make it to all four supper clubs will have a little seasonal print collection of your own.
For more information and bookings please visit click here.