It's getting hard to remember now but the bakery started over 7 years ago from a borrowed kitchen off Whiteladies Road. Access was down a back lane, through a car park and up a flight of stairs – somehow customers did eventually find us but some days it was only a trickle. A chat with our neighbours from Planet Pizza and the offer to pop up on Saturdays outside their Gloucester Road restaurant has played a huge part in our story and we have never forgotten it. It allowed us to meet lots of new customers, try out our products and have at least one day a week of good trading to keep the business afloat.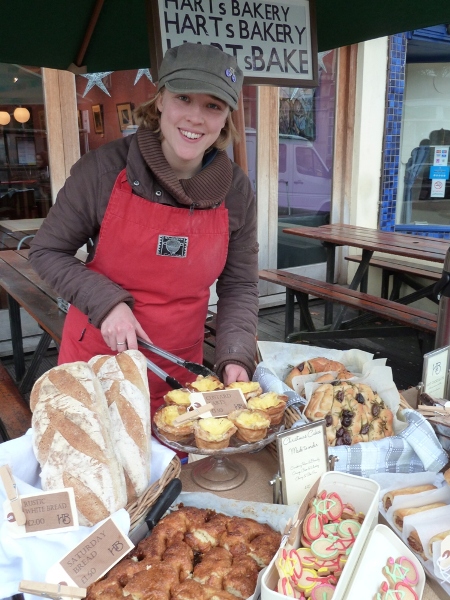 Laura serving Saturday Bread and custard tarts outside Planet Pizza, sometime in 2011
Bristol is a fantastic city to start a business in – independent businesses are a key feature of why its such a great city to live in and the spirit of support and innovation makes it an ideal starting point. But getting your foot in the door of a busy city can be tough, there is a vibrant market scene but they are well established and not always accessible to new traders. We wouldn't be where we are now without a lot of help and support in the early days and we want to pass that generosity on.
This summer we would like to offer the opportunity for new businesses to pop up at a series of Saturday markets outside the bakery. We'll provide (for free) a gazebo, tables and all the coffee you need to keep you going. We are looking for businesses that have been trading for less than a year, with great ideas or products ready to meet new customers and shout about what you are doing. It doesn't matter what you are doing – food, craft, service, charity – we want to hear from you!
The markets will run on the first Saturday of the month – 5th May, 2nd June & 7th July with 4 traders each week. If you or someone you know would like to take part please get in touch by emailing shanea@hartsbakery.co.uk – tell us a bit about yourself, your business and why you'd like to have a pitch with us.
We'll be posting details of who will be with us each week as soon as they are confirmed – watch this space for the most exciting things to be setting up in Bristol this year! Follow us on twitter and Instagram @hartsbakery #startsatharts