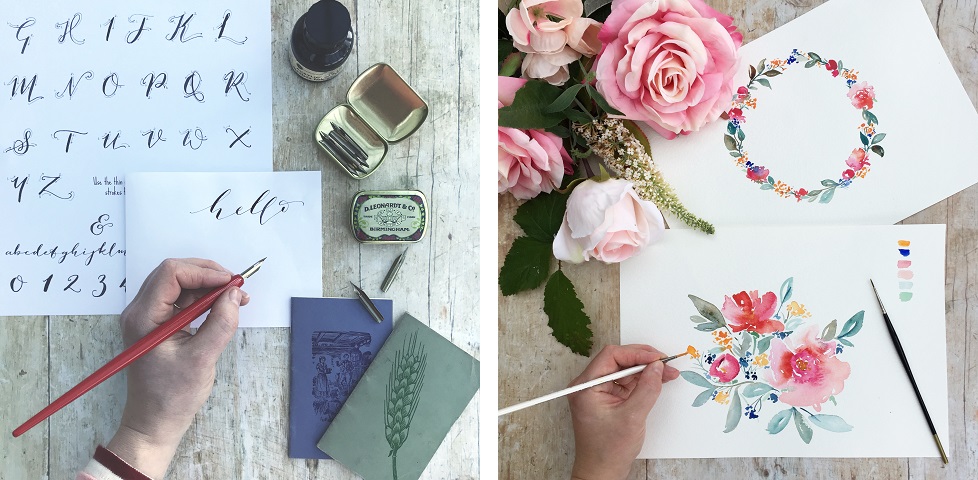 We're delighted to welcome back Harriet from de Winton Paper Co for two more of her popular workshops
SUNDAY 15th APRIL 2018 – MODERN CALLIGRAPHY
In this 3 hour session you will learn basic techniques with a dip pen nib and ink. From there you'll copy a lower and upper case alphabet, numbers and punctuation. You will learn about how to join up the letters to make words and phrases. The class will finish with each attendee creating a chosen phrase or quote in their own personal free style.
The workshop runs from 2pm to 5pm at the bakery.  There will be plenty of baked goodies and hot drinks to keep your creative juices flowing. You will also leave with a kit of modern calligraphy essentials
For bookings and more information  click here
SUNDAY 15TH APRIL 2018 – WATERCOLOUR MODERN BOTANICALS
This Watercolour Modern Botanicals Workshop offers an introduction to watercolour painting with a focus on plants and flowers. You will learn the fundamentals of watercolour as well as the key steps to painting any plant or flower. We will finish off the class with everyone painting a watercolour wreath choosing whichever plants and flowers they have enjoyed painting the most.
The workshop runs from 10am – 1pm and includes hot drinks and bakery goodies. Every attendee gets a takeaway kit of watercolour essentials.
For bookings and more information  click here